For many years, my biggest aspiration in life was to one day create a game that would inspire people to illustrate fan art, write fan fiction, and wear cosplay. I'm absolutely thrilled to see that a fandom has sprouted up around Yandere Simulator! I'm filled with glee whenever I see fan-made artwork or stories that were inspired by Yandere Sim, and I think that seeing people dress up as Yandere-chan is the coolest thing in the world!
Sometimes, people even imagine new characters for Yandere-chan's school, or imagine new rivals for Yandere-chan to defeat. I think this is just as cool as all other fan creations! However, there's something that I should mention: You're welcome to share your creations with me, but I can't include any of your original characters in Yandere Simulator. The reason why is a little bit complicated, so I'm going to explain using an anecdote.
Juju
Are you familiar with Skullgirls? It's my favorite fighting game!
The character named Parasoul commands a group of soldiers, one of whom is a sniper. Shortly after Parasol was announced, a fan of the game made a post on the Skullgirls Facebook page, stating that Parasoul's sniper should be named "Juju", be a Chinese assassin, and have a talking rifle.
As a nod to this fan's suggestion, the voice line "Take the shot, Juju!" was added to Skullgirls.
During Skullgirls' IndieGogo campaign, the developers of the game allowed fans to vote for which characters should become playable in the future. Juju showed up on the poll as a potential playable character.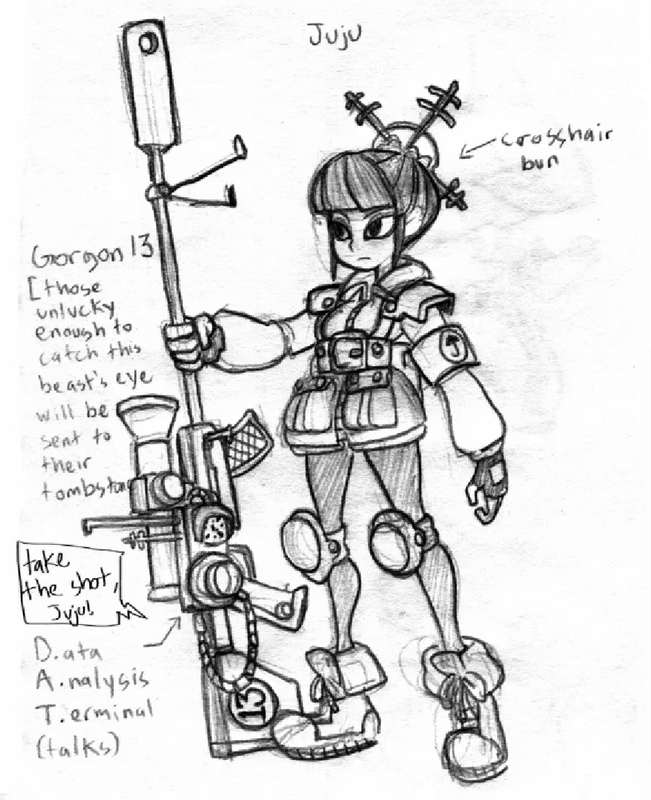 The fan who originally proposed the concept of Juju then made a Facebook post stating that he wished to be compensated for designing a character who was being used in a commercial product. The creators of Skullgirls began negotiating with this fan to get the rights to his character. However, it was very difficult for these two parties to reach a mutually satisfactory agreement, and acquiring the rights to Juju turned into a messy legal battle that lasted for several months.
After "continued disruptive and unprofessional conduct" from the fan who created Juju, the creators of Lab Zero decided to completely axe the character. "Take the shot, Juju!" was removed from the game, and the character was declared non-canon.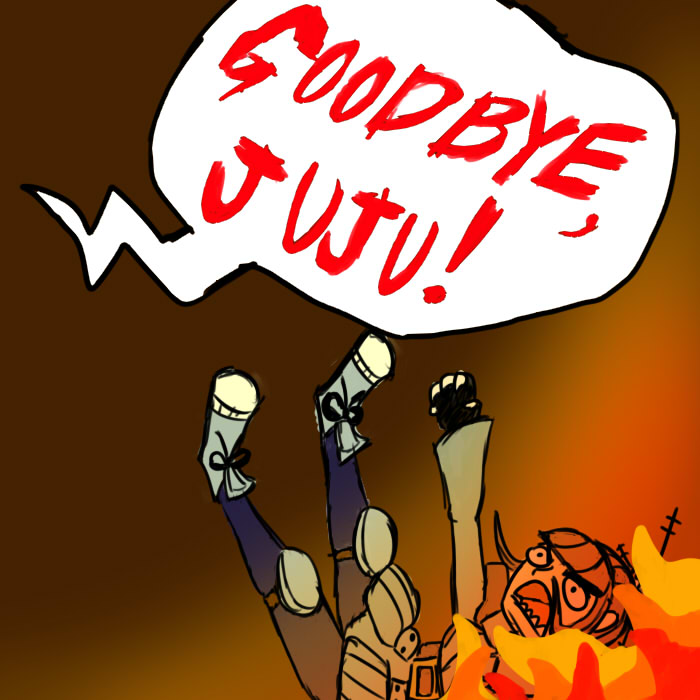 The moral of this story is that if you're a game developer, and you use a fan-created character in your game without formally acquiring the rights to that character, you're potentially setting yourself up for a legal nightmare.
If someone wants to design a character for Yandere Simulator, I must require them to sign a copyright transfer agreement which grants me the unlimited and exclusive right to sell, modify, produce derivative works of, display, distribute, or otherwise use their design in any form and by any method, within Yandere Simulator and all directly related media. Anything less than that, and I'm painting a target on my forehead and inviting them to sue me.
In other words, I refuse to let Yandere Simulator get "Juju'd".
Learning from Juju
If you've designed a character for Yandere Simulator, and want to see your character appear in the game, I'm flattered – but I can't use your design.
It's possible that, one day, in the future, when I launch the Yandere Simulator crowd-funding campaign, one of the "backer rewards" will be the privilege of designing a student who will appear in the game. The backer will be able to choose the student's name, personality, and schedule. This may be expensive. If there are extremely few "open character slots", if it takes a lot of time and effort to implement a new student, and if Yandere Simulator requires a lot of money to be fully funded, then you would have to donate a very significant amount of money to see your character appear in the game.
The bottom line: I'm always delighted to see an original character that someone has designed for fun, but at this point in time, I can't put your original characters into Yandere Sim. As stated above, I've learned important lessons from Juju, and I need to protect myself from those who would seek to take advantage of me.