Have an extra-large build for you today! Around 32 fixes/changes/improvements from the previous build.
To see a list of everything that is new or different in the latest build, scroll down past this gorgeous portrait of Ayano by lawlietinblue!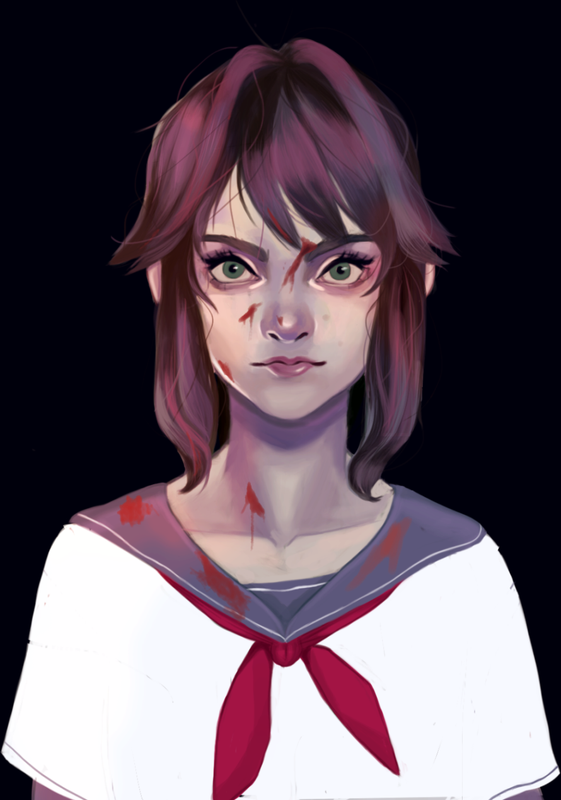 Fixes and Changes
A tremendous number of people reported a "bug" that items they purchased in the street were not being brought to school. This is because they were not aware that, in order to bring an item to school, you have to select it from a menu. To resolve this problem, you will now be presented with the "Bring item to school?" menu whenever you try to leave the protagonist's home and go to school. This makes it impossible to miss the menu.
Previously, if the player used the Settings menu to deactivate Rim Lighting and Character Outlines, those two settings would re-activate themselves upon starting a new day. This was intentional, in order to prevent a bug from occuring. However, that bug has been fixed, so now Rim Lighting and Character Outlines will remain disabled if the player disbales them.
Previously, if the player crouched while holding a small weapon, the protagonist would automatically conceal the weapon. This is no longer the case. The protagonist will now continue to hold the weapon in their hands while crouching. (However, this does not apply to large weapons; only small ones.)
If a rival was kidnapped, turned into a mind-broken slave, and then used for a murder-suicide, the game would count her as "kidnapped" rather than "dead in a murder-suicide." From now on, the game will track that rival's death as "suicide" rather than "kidnapped."
Because the ability to send a rival to check her locker for a note is extremely powerful, rivals will now refuse to believe you when you tell them that there's a note in their locker, unless you've befriended them and your reputation is past a certain threshold.
Fixed bugs that would occur if a rival attempted to inform Senpai of the presence of a murderer in the school while Senpai was busy performing some activity (turning off a radio, receiving food from a member of the Cooking Club, etc).
Previously, if the player put a bloody gym uniform or bloody swimsuit into a washing machine, the machine would spit out a clean school uniform instead of spitting out the appropriate clothing. This is now fixed.
Fixed bug that would cause a suitor to gain Affection Points with a rival for lacking a trait that the rival was not attracted to (instead of possessing a trait that the rival is attracted to).
Fixed bug that would cause certain students to have pure-white textures on their school uniforms if School Atmosphere was low during the week of Sonoko (10th rival of 1980s Mode).
A mind-broken slave walking through a metal detector with a metal weapon will now set off the metal detector (but it won't stop her from continuing towards her destination).
Adjusted the bloom settings for the "rival confesses to suitor" cutscene so that the bloom doesn't obscure the visuals, but the scene still retains a "dreamlike" feeling.
If the player was spotted stealing cigarettes and sent to the guidance counselor, there was a bug that would let them keep the stolen cigarettes. This has been fixed.
Removed one of the drinking fountains in the school, because its position was interfering with students' ability to correctly locate the nearest drinking fountain.
Fixed bug that caused Yandere-chan's hair to permanently turn invisible if the Cloaking Device was used at any point during the Alphabet Killer Challenge.
Fixed bug that caused the magazine in a suitor's bookbag to display the incorrect text for describing what a suitor was attracted to.
The player is now required to join the Science Club in order to use the vat of acid or emergency shower inside the science clubroom.
Fixed bug that prevented the game from recognizing whether or not Raibaru was currently standing in a puddle of electrified water.
Fixed bug that would cause male and female delinquents in 1989 to perform their "talking" animations even if they were alone.
Miyuji Shan will now eat food during Mission Mode so that it's possible to complete a mission that involves poisoning her.
Fixed bug that would cause a student to perform a "texting on phone" animation even without a phone in their hands.
Re-arranged three characters in the 1980s Mode Alphabet Killer Challenge who were out of alphabetical order.
Fixed bug that prevented the 1980s Mode rivals from having the right facial expressions in their portraits.
Fixed bug that would prevent a rival's suitor from traveling to his locker to check for a note on Friday.
Expanded the size of the "Matchmaking Results" window so that the text isn't so squished and tiny.
Fixed bug that would put Saki's bra into the player's inventory if they stole a box of cigarettes.
The text that displays during the tutorial has been updated to tell the player how to run.
Made an optimization to the beat-em-up minigame that should result in a better framerate.
Fixed bug that caused the gym teacher to have a massively oversized phone in 1980s Mode.
Fixed a typo in the text for Ryoba's monologue describing Sumiko, the 4th rival.
The particle effect for being sprayed by a metal detector has been updated.
Updated the Basu sisters' hair models.
Updated Himari's hair again.