UPDATE: This blog post has been updated with a download link! Check out the "Environment Art" section!
I'm almost done animating the game's intro cut-scene. Cut-scenes aren't a high priority compared to gameplay, but I was having so much fun that I couldn't stop myself. I promise that by the next update, I'll be done working on the game's intro, and I will get back to working on implementing new features and gameplay mechanics.
I've been told that this cut-scene has awful dialogue. Do you agree? I should mention that I'm intentionally trying to make the characters talk the same way anime characters do; I'm not trying to make them sound like realistic or believable characters. I'm using the "anime style" of writing.
On the subject of how I'm depicting the characters, I'm interested in hearing your feedback about something. What kind of story do you want the game to have? Do you expect the main character to be mentally unstable before the game begins, or do you want to watch her spiral into insanity as a result of multiple traumatic events? Do you want the game to be dark and serious, or is it fine if the game is lampooning cliche anime stereotypes like "running to school with toast in mouth"? And how do you feel about the way the story has been unfolding so far?
Environment Art
All of the environment art you've seen me post in the past has been placeholder artwork that looked bad, or store-bought artwork that looked nice but didn't suit my needs. I've been fortunate enough to meet a very skilled 3D modeller who is producing excellent environment models for me. Soon, the days of white-cube environments will be over!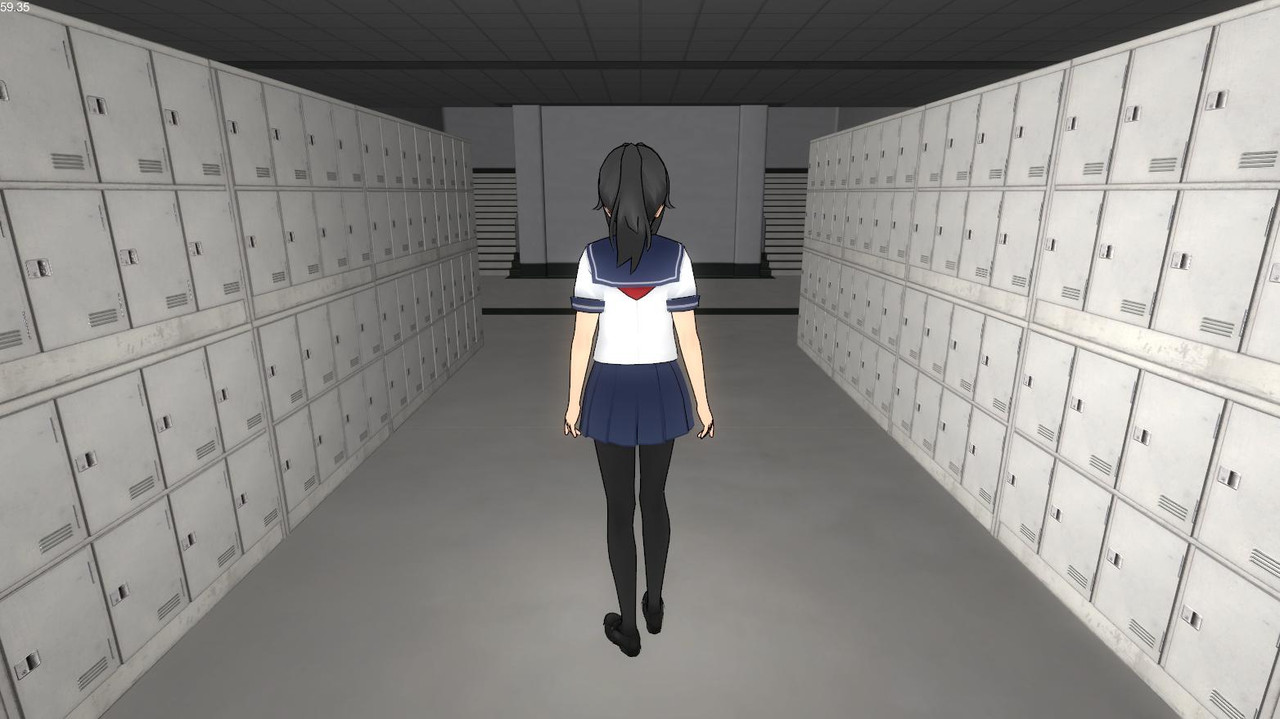 Here's a link to a little environment you can run around in for fun, if you're interested in seeing how things are coming along:
http://drive.google.com/uc?export=download&confirm=swRV&id=0B8Xb4Pl1gykjZTI0eVZEbUJkS2s
Hit the "m" key to listen to sweet jams while you walk around!
HUD Design
Another area of the game that is moving forward is design of the HUD and user interface. An extremely talented graphic designer is helping me out by producing various mockups that are helping me decide the direction of the game's GUI design. This is nowhere near final, and obviously subject to change, but I'd like to share some of the work he's done so far to give you an idea of where the game's GUI design is headed: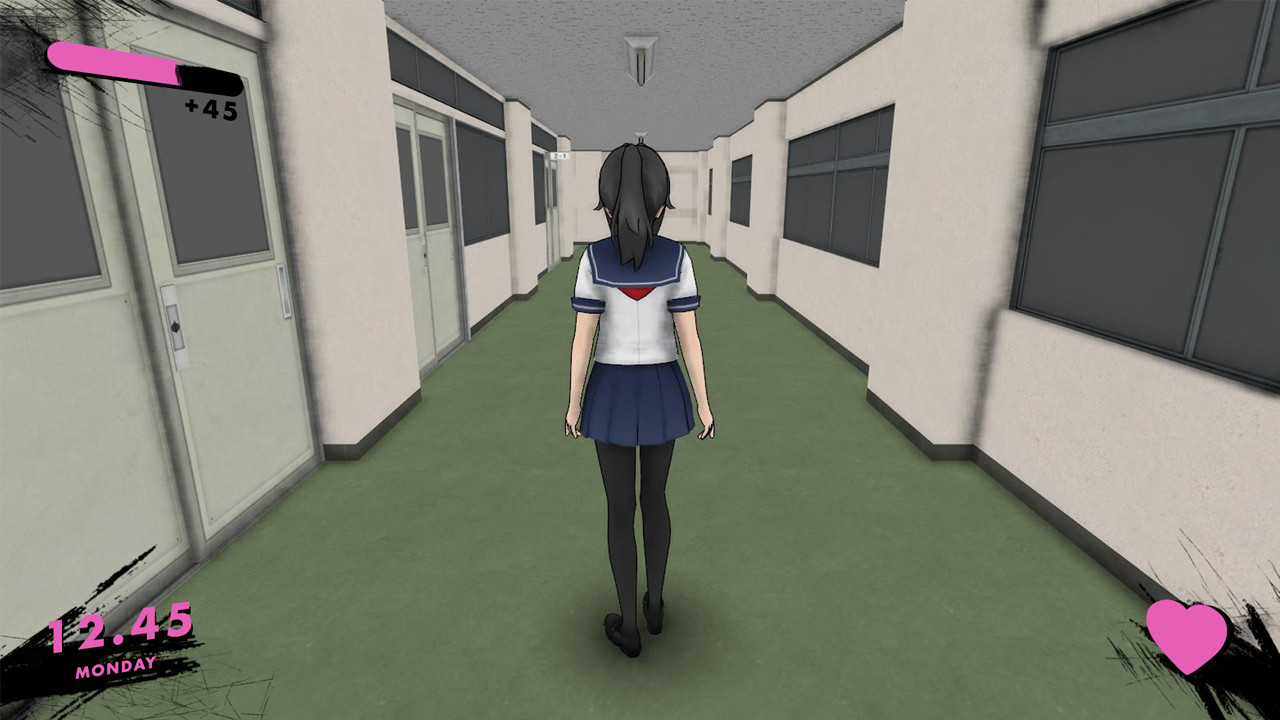 Cheat Codes
I don't know if this will make me sound like an old man, but I miss the good old days when games had frivolous cheat codes, like "DK Mode" from Goldeneye 007 or "Flying Cars" from GTA3. So, I intend to include silly cheat codes in Yandere Sim. I put together a short video demonstrating how cheat codes will be unlocked. (This screen has had no UI design whatsoever, so the GUI here is completely placeholder.)
There are much higher priorities than adding frivolous cheat codes into the game, but I'd like to ask you what kind of cheats you would be interested in seeing in the final game. I'm totally in favor of adding completely ridiculous cheat codes, such as replacing everyone's hands with chainsaws:
Or putting a toaster into Yandere-chan's mouth:
What kind of cheat codes do you want to see? Let me know in the comments below!
Polls
There are several subjects that I would love to hear your feedback on. First of all, what do you think of the name of the game, "Yandere Simulator"? Do you think the name should be changed to something else, if the game isn't meant to be a pure "simulation" game? I thought up several name ideas, and I'd like to hear your opinion on them. If you think that all of these names are garbage, please suggest some better ones!
Do you think it would be okay to continue using the name "Yandere-chan" for the protagonist, or do you think she should have a different name instead?
Japanese high schools are very utilitarian, with lots of straight corridors and right angles. This is not exactly the ideal level design for a stealth game. Do you think the high school layout should be authentic and realistic, or do you think the layout should be designed for stealth first and schooling second?
Patreon
Last April, I swore not to accept donations until I had produced a playable demo. Then I made a poll and asked if it would be okay for me to start accepting donations at this point in time. More than 75% of people stated that it would be okay for me to begin accepting donations. I've decided to create a Patreon page and allow donations. I'd like to find out if I can make enough money through Patreon donations to stop doing freelance programming work, so I can focus 100% on developing Yandere Sim in a full-time capacity. This is money for "keeping the lights on", not for paying anyone else to work on Yandere Sim. There won't be a serious fundraising campaign until a true playable demo is available.
Click here if you'd like to check it out: http://www.patreon.com/yanderedev