I'll keep it brief. Here's a bullet-point list of good news:
I finished polishing Osana's matchmaking elimination, and now the only Osana-related feature that still requires any polish is her Befriend/Betray elimination.
A very skilled volunteer has recently returned to the project after a long period of absence. With his help, Osana's animations and cutscenes can look much, much better!
Recently, a fellow programmer with access to Yandere Simulator's project files has been investigating whether or not there are any issues that would prevent me from being able to upgrade the game's engine from 2017.3 to 2019.3. So far, while running the game on Unity 2019.3, he has experienced faster loading times, higher FPS, and no crash bugs. It looks like we'll be able to upgrade to Unity 2019.3 soon, and then Yandere Sim will run faster for everyone!
While working on Osana-related features (and the feature I hinted at near the end of my Jan 1st video) I fixed a lot of bugs along the way, so I'm releasing a new build. Check out the changelog; you might find something interesting in there…
To see a list of all the fixes/changes/additions in the latest build, please scroll down past this chilling artwork of Yandere Sim characters as button-eyed dolls, illustrated by Koumi Senpai!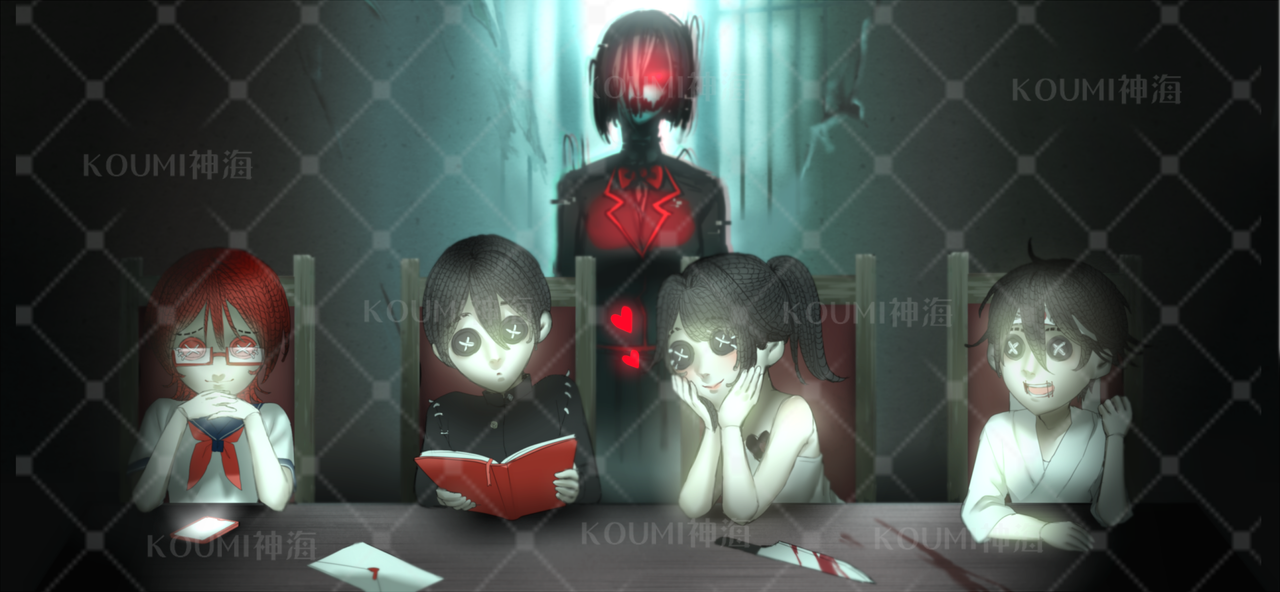 Bonus fact: This is crossover fan art, combining Yandere Sim with a game called Identity V! I think Koumi captured the aesthetic perfectly!
Fixes, Changes, Additions
It is now possible to leave multiple notes in lockers throughout the day, instead of being limited to only one note-in-locker per day. (However, you cannot leave a note in someone's locker if there is already a student who is currently attempting to meet the anonymous person who put a note in their locker.) (This means that previously impossible Multi Mission missions are now possible.)
Fixed bug that would prevent Yandere-chan from being able to interact with an object that was being guarded by a teacher, *after* that teacher had been killed and was no longer guarding the object.
Re-balanced price of Info-chan's sedative poison, since it should be much more expensive than the headache poison (which exists to give the player a way to obtain sedative poison).
Fixed bug that would allow the player to carry a bloody weapon without being considered suspicious, if the weapon was club equipment, and the player was in that club.
Gave someone a makeover, in order to differentiate them from another character. Hint: They're not a student or a faculty member, and they're not found on the street.
Fixed bug that would prevent a Teacher from investigating a report from a Teacher's Pet if the report happened when the Teacher was outside of the faculty room.
Fixed bug that caused Student Council members to tilt at extreme angles when Yandere-chan attracted their attention from the top / bottom of a set of stairs.
Fixed bug that would prevent the police from discovering the corpses of dead students if more than one student had died by drowning.
The text that a student uses when responding to a compliment is now dependent on their Persona and your current reputation.
The Delinquents' weapon cases will no longer clip through the wall behind them when they sit down at a bench.
Corpses will no longer leave a trail of blood pools in the air when they are dropped off the school rooftop.
Fixed bug that would cause a teacher's voice to echo when discovering a dismembered limb on the ground.
Yandere-chan should no longer be able to attack students through doors when at low sanity.
Various code optimizations that should improve the game's performance on some computers.
The background music for the "Near" easter egg now has vocals from the amazing Diwidly!
Inkyu's hair will no longer have weird shading glitches.
By the way, I've got a bit of news that might please some easter egg enthusiasts:
Up until now, it has been impossible to activate two easter eggs simultaneously; the easter egg menu would disable itself after an easter egg had been activated. From now on, if you activate an easter egg and then mash the key that opens the easter egg menu 10 times, it will be possible to restore the easter egg menu and activate multiple easter eggs simultaneously. (However, the eggs were never designed to work this way, so I can't promise that everything will go smoothly!)
On the subject of easter eggs, there's also something else to mention. An upcoming feature requires some visual effects to achieve a specific look and feel. To achieve these visual effects, I purchased a set of camera filters from the Unity Asset Store. Many of these filters are super cool, so I added an easter egg command that lets you cycle through all of them. With the easter egg active, the controls are:
X – Forward
Z – Backward
Shift + X: Forward by 10
Shift + Z: Backward by 10
Mission Mode Update
It is now possible to activate Nemesis in Multi-Mission Mode.
Nemesis has an additional difficulty level in Multi-Mission Mode; you can decide if she will run at you if she sees you.
Nemesis can now spot you from farther away.
From now on, upon completing a Mission Mode mission, you will receive a code that grants you a special role in the Yandere Simulator Discord server.
What's Next?
My current goal is to implement the feature I hinted at near the end of my Jan 1st video. It won't take 2 full weeks to implement, but it might be released around March 15th, along with an accompanying video about the feature.
In Closing
I'd like to extend my gratitude to everyone who sent me words of support and encouragement over the past 2 weeks. I'm extremely lucky to have so many patient and understanding fans. I'm going to do my very best to hang in there, and make you proud.