Happy Halloween, everyone! Just like last year, it's time for a…
 Yandere Sim Spooktacular!
Let's start off with some absolutely beautiful fan-art by the incredibly talented Chatgaga Letouffu!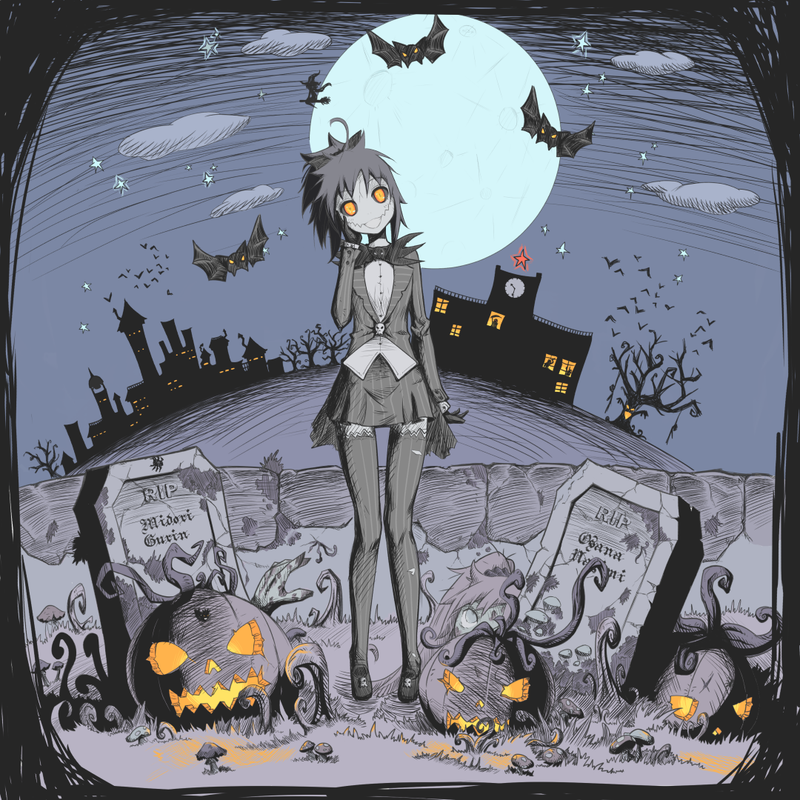 Gorgeous, huh? Next, check out this Halloween comic illustrated by SRealms!
But, I know what you're really here for…the latest video! Here it is! Go ahead and watch it!
I hope you enjoyed that video – between October 18th and October 31st, I worked on that minigame for about 156 hours! I completely abstained from video games for 13 days straight in order to prepare that minigame in time for for Halloween.
The entire time that I was working on it, I was pretty nervous. After all, it's really easy to come up with a big reason to dislike the latest addition to the game; it's a mini-game that has nothing to do with the core gameplay! In other words, although I worked for 156 hours over a course of 13 days, I didn't make a single bit of progress on Yandere Sim's core gameplay; instead, I made a mini-game that can be beaten within 5 minutes! I wouldn't be surprised if a lot of people react to this video by saying "YandereDev, you idiot! Work on the main game! Don't work on silly little pet projects!"
However, I believe that this minigame/video is important, because it serves several purposes:
This minigame demonstrates what I want the "Video Games" feature in Yandere-chan's room to be like. I'd like to have at least 4 other minigames just like this.
This minigame demonstrates what type of game I'd like to make once Yandere Simulator is finished – a fast-paced high-energy action game, with crazy attacks and dramatic boss fights! It could be a side-scroller, a shoot-em-up, or a hack-and-slash; I just want to work on an action game!
This minigame serves as a short vacation from Yandere Simulator, while still contributing to Yandere Simulator. In the past, I made dozens of small game prototypes like this one. I was a much happier person back when I was making several "rapid prototypes" every month. I stopped doing that, and turned Yandere Simulator into my full-time job. However, I never stopped yearning to make more "rapid prototypes" like this two-week project. Working on "Yanvania" helped me get away from Yandere Sim for a couple of weeks, but it's not a total waste, since the result is something that can be featured within the game.
This minigame serves as a "pitch" for a future game. As you can tell from watching the end of the video, I already have a premise/plot/storyline in mind. After watching the above video, do you think you'd want to play "Yanvania: Senpai of the Night", or something similar to it? Perhaps a poll is in order.
Of course, working for 156 hours and completely abstaining from video games doesn't really sound like much of a "vacation", now, does it? Also, if people react negatively to the "Yanvania" minigame and wish I'd been working on the core game instead, then I guess I wasted the last 13 days of my life pretty badly!
In any case, two things are for certain:
The next update should be coming very soon: in less than a week! And this time, it will be an addition to the core gameplay!
I hope that you all have a wonderful Halloween!
EDIT 1:
Oh, yeah, I almost forgot! If you like the "Yanvania: Senpai of the Night" title screen artwork illustrated by that-bleach-fan, you can download it here!
EDIT 2:
By the way! There's an easter egg hidden in the Yanvania title screen. I wonder if anyone will find it?
EDIT 3:
Wow! My biggest mistake yet – I forgot to mention the talented gentlemen who contributed the music for this minigame!
The "Boss Approach" music and "Boss Battle" music were composed by by Darrell "Dibur" Reconose!
The Title Screen music was composed by Christopher Escalante, who also composed music for Seduce Me 2!