Updated October 15th with more information regarding crash bugs.
I try to only discuss positive things here on the blog, so please believe me when I say that I wouldn't be bringing this up if it wasn't a legitimate problem.
STOP SENDING STUPID E-MAILS!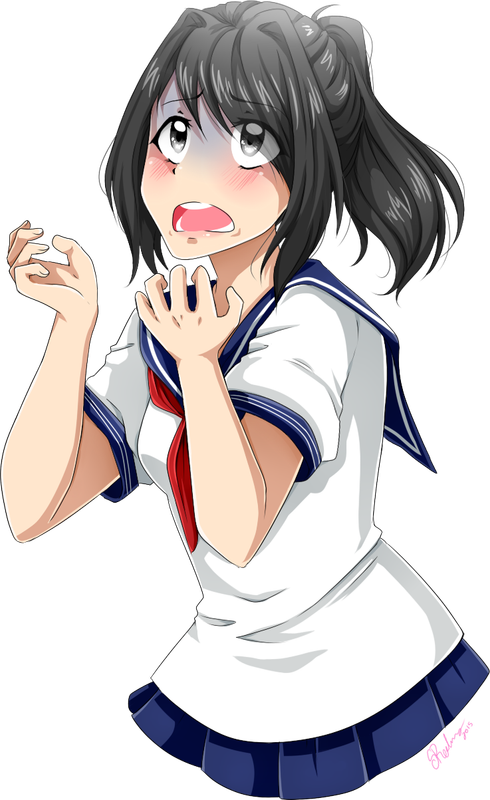 There was once a point in time when I was receiving so many stupid e-mails every day that it actually became impossible for me to make progress on the game because of the sheer amount of time that I had to spend sifting through my e-mail attempting to locate meaningful e-mails. After I complained about it – loudly – across several videos and blog posts – and created a character solely for the purpose of ridiculing people who send me stupid e-mails – the avalanche of dumb e-mails subsided, and I was actually able to resume making significant progress on the game.
However, over the past week, I've been receiving an absolutely unacceptable number of e-mails that I can only describe as stupid, and I can honestly say that it's interfering with the amount of time I have to work on the game.
Before you make a horrible mistake and become Midori-chan, I beg you to read the following:
Please DO NOT contact me just to tell me that you tried to download the game, and your download was corrupt.
This is not my fault in any way. What do you expect me to do? Come over to your house and click the download link myself until you receive a file that is not corrupt? If your download was corrupt, or there was an error when trying to decompress the rar file, or the game tells you that files are missing, then the only solution is for you to re-download the game. You're the only one who can solve that problem. Not me.
If you see weird stuff like this, it's because your download was corrupt. Please do NOT e-mail me and tell me about it, because there's nothing I can do about it.
If your download is ALWAYS corrupt, I'm sorry, but I can not help you. That is your problem, and not mine. Just wait until there is an official launcher/updater that checks for file integrity.
Please DO NOT use vague language in bug reports.
It's all too often that I get really stupid bug reports like this:
"On Wednesday at lunchtime, Kokona will glitch out."
"Glitch out"? What is that supposed to mean? Glitch out HOW? Does she stop moving? Does she vibrate? Does she turn upside down? You must describe the exact nature of the problem, or else I won't have enough information to understand what you're talking about.
Please DO NOT attempt to insert jokes into your bug reports.
Often, a bug report will have some stupid inside jokes that make it impossible for me to understand what the bug reporter is talking about.
"On Wednesday at lunchtime, Kokona will go full Naruto!"
This statement relies on me knowing what you're referencing about Naruto. Don't assume that I've seen every anime, TV show, and movie that you've seen. Don't make references that I might not understand; just describe the problem clearly.
Please DO NOT report bugs that you saw in a YouTube video.
Because the game is constantly being updated, YouTube videos are often outdated and obsolete within 24 hours. Anything you see in a YouTube video is something that happened in the past, in an old and outdated version of the game. It doesn't matter how recent the YouTube video is; never base a bug report off of something you saw in a video. Only write bug reports based on what you have personally experienced first-hand in the most recent version of the game.
Please DO NOT send me crash logs.
When a Unity game crashes, you will see the following error message:

Someone looked through one of the crash logs for me, and discovered what was causing the game to crash. The problem was that files were missing. I looked through several other crash logs that people had sent to me, and every one that I checked had the same error message: "file not available". In other words, the game does not have any "crash bugs" – the game will only crash if your download was incomplete or corrupt.
Please DO NOT offer to translate the game.
I'm super happy to hear that you want to translate the game into your language. However, it would be absolutely pointless to work on translations at this point in time, because I am constantly changing the game's text, and I don't want to ask you to re-translate the game's script every few days.
I will not seek any translators until after the game's English script is 100% finalized, which will be several months from now.
Please DO NOT send me your suggestions / ideas for the game.
It's nice to hear that you've come up with ideas for Yandere Simulator, but I've got to be honest with you: 99% of the time that I get a suggestion from someone, their suggestion:
1. Has already been suggested before.
2. Is already a planned feature of the game.
3. Does not fit in with the design of the game.
4. Is far beyond the scope of a one-man indie game with no budget.
So, please, just don't even bother. Please don't e-mail me your suggestions unless I am specifically asking for feedback/ideas.
Please DO NOT suggest that I get a secretary to help me with my e-mails.
I have already explained numerous times why this is an absolutely horrible idea. It's not going to work. Stop suggesting this. Furthermore, don't write an e-mail trying to debate the points that I made in that video, because I've already heard it all, and the answer is still no, I should not get a secretary.
Please DO NOT think that you are the one exception to everything I have written above, and that you are a brilliant genius who is going to convince me to change my mind about all of the above information.
If you're planning to write me an e-mail saying "YandereDev, I have the solution for your e-mail problems!" please stop immediately. Any idea that you want to suggest to me has already been suggested, and if I'm not using that idea already, then obviously there's a problem with that idea, isn't there? So, please, don't even bother!
Now that you've read a list of what NOT to do, here's a list of what you SHOULD do:
Please ALWAYS read the Known Bugs page before reporting a bug.
Please ALWAYS read the FAQ before asking me a question.
Please ALWAYS remember that I receive literally hundreds of e-mails every day, and that every hour I spend reading e-mails is an hour I am NOT working on the game, and when I'm not working on the game, the game's development is not moving forward whatsoever. In other words, when you write a stupid e-mail and waste my time, you are literally delaying the game.
I hate to write such a negative blog post, but as I said in the beginning, I wouldn't be writing this post if I didn't deem it to be absolutely necessary.
Remember: every time you waste my time by writing an utterly stupid e-mail, a yandere girl loses her Senpai. Please, think of the yandere girls. You wouldn't want to make a yandere girl angry, would you?
(…It's still fine to share fan-art and cosplay, because I think that stuff is super cool.)