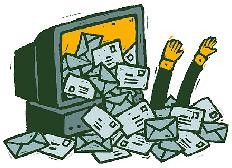 Yesterday, I was unavailable to answer e-mails, and so my e-mails piled up. Today, I was answering e-mails from 8:00 AM until 12:00 midnight. I didn't even get to write any code for the game today. Just when I was about to go to bed, I remembered that I forgot to check the blog.
The blog has 103 new comments since the last time I checked.
I usually try to read every blog comment and answer every question, but I don't think that's going to be possible anymore. At this point, if I read and answered every e-mail AND answered every blog comment, I would have literally no spare time left over to actually work on the game.
Please, ONLY e-mail me under the following circumstances:
You are reporting a bug.
You are making a business inquiry or proposition.
You are a talented 2D artist, 3D artist, or 3D animator (or a programmer who specializes in the Unity game engine) who wants to volunteer to help me develop the game.
Please, DON'T e-mail me under the following circumstances:
I already have enough programming tasks to last me for months, so I can't really afford to take on any more requests.
If you can't get the game to run, please wait until I release another build. If you can't download the game, please wait until I post new download links. If you can't extract the build, it's not my fault, and there's nothing I can do about it.
90% of the "bug reports" I get are about bugs I already know about, and that's very unfortunate. 100% of the people who volunteer to help me with the game are appreciated, but only 50% actually include any examples of their work.
This doesn't mean that I intend to stop paying attention to what players are saying, or that I won't be listening to any suggestions or feedback from this point forward. It just means that I can't afford to keep interacting directly with the community as frequently as I have been, or else I'd have literally zero free time left for development.
There are two exceptions to the above rules:
You're welcome to send me fan art, I love seeing it.
I'm not looking for any voice actors or voice actresses at this point in time, but if you're a female voice actress who wants to be contacted once I am ready to include more voices in the project, you can send me your demo reel. If you don't have a demo reel, then please don't contact me.
On the plus side, I do have some positive news to report. All of those e-mails I'm so busy with are between me and some extremely talented individuals who are producing some absolutely amazing assets for the game, and I can't wait to show off their outstanding work. I'm also being presented with some incredible opportunities that I never imagined would be possible for me. Despite all the doom and gloom up above, I've actually never been happier, and I'm really eager to share all of the exciting new progress with you guys, as soon as it's ready!
Thanks for reading this!